Our guide will include important data about the RC leading manufacturer - Dynam RC, such as:
Where Is Dynam RC Located?
Dynam RC, the leading RC models brand, founded in 2005, is located in No.27 Huoju 2nd RD, Hi-tech Park, Fengcheng, Jiangxi, China. Dynam RC is a widely recognized brand of remote-controlled (RC) airplanes, cars, drones, power control systems, and helicopters. We have been in the RC industry for 18 years, and the products are known for their high-quality build and performance. We offer a wide variety of products perfect for hobbyists and enthusiasts alike.
So where exactly can you find Dynam RC? The good news is that we have a few different locations worldwide. You can find Dynam RC's headquarters in California in the United States. This location is home to Dynam RC's main warehouse and distribution center.
You can find Dynam RC's European headquarters in Germany if you're located in Europe. This location is responsible for distributing Dynam RC products throughout Europe.
Whether you are a beginner or an experienced pilot, no matter where you are located, you should be able to find a retailer that carries Dynam RC products. Many hobby shops and online retailers carry our products, so research to find the best place to purchase your next remote control vehicle.
Location of production plant (Made in China)

Our industrial zone covers 80 acres and has 28000m² modernized industrial buildings, which consist of a precisely manufactured model workshop, a CNC machining center, an electronic workshop, a quality-control center, and an injection molding workshop. All of these reflect that DetrumTech always prioritizes the quality of production.
Who Owns Dynam RC?

Dynam RC is a famous brand among those passionate about radio-controlled airplanes. The brand has been around for a while and has gained a reputation for producing top-quality models that are easy to use and fun to fly. But who owns Dynam RC?

The answer is not as straightforward as you might think. Dynam RC is actually a subsidiary of a larger company called DetrumTech, which is based in China. DetrumTech is a leading manufacturer of radio control systems and has been in business for over a decade.

The decision to create a subsidiary brand like Dynam RC was wise, allowing DetrumTech to expand its offerings and tap into the growing market for radio-controlled airplanes. Dynam RC has since become a well-known name in the industry thanks to its high-quality products and excellent customer service.
DetrumTech owns three brands: Dynam RC, TomCat, DetrumTech.
Dynam RC
— Specializes in RC airplanes and related electronic parts.
TomCat
— Specializes in motors and power control systems.
DetrumTech
— Specializes in UAVs and core components.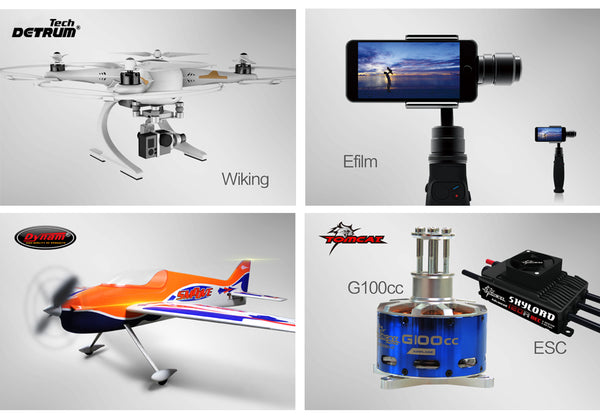 DetrumTech, "Realize a dream, colorful sky," is committed to developing, manufacturing, and selling intelligent industrial UAVs, mechanical and electrical equipment, intelligent electronic control products, precision sensors, and servos. Full of passion and innovation, DetrumTech strives to develop itself continuously.
DetrumTech is a company where quality is assigned the highest priority at all stages, from product development to manufacturing and service. DetrumTech is dedicated to giving the user the perfect flight experience by developing leading-edge production.
Is Dynam RC Out of Business? Do They Still Make RC?
Dynam RC is always in operation. We still make RC models. Although we have experienced some difficulties, we are honored and gratified to have the support of loyal users worldwide. What we want to say is thank you. We will reward our customers with better products.
What Did Dynam RC Sells?
Dynam RC offers a wide variety of products, including RC planes, helicopters, and accessories such as batteries, servos, transmitters, simulators, ESCs, motors, and flight controllers. Many hobbyists and enthusiasts enjoy their products for their quality and affordability.
Types of Dynam RC airplanes
RC Airplanes
Dynam RC Airplanes are high-quality, reliable remote-control aircraft perfect for beginners and experienced pilots. These planes are designed with advanced technology and are built to withstand even the most challenging flying conditions. With their sleek designs and powerful motors, Dynam RC Airplanes will provide hours of fun and excitement for anyone who loves flying. Whether you're looking for a high-performance model or a more laid-back approach, a Dynam RC Airplane is perfect.
RC EDF Jets
Beginner RC Airplanes
RC Float Planes
RC Glider Planes
Park Flyer RC Plane
Aerobatic RC Planes
Warbird RC Planes
RC Scale Planes
RC Biplane
Radios
Transmitters
Flight Controllers
Gyros/Stabilizer
Simulators
Receivers
Servos
Electric Retracts
Radio Accessories
Power Systems
Electric Motors
Electronic Speed Controls
Batteries
Chargers
FPV
Video Transmission
Cameras
FPV RC Plane
LED Drivers
Replacement Parts
Are Dynam RC Planes Any Good?
Dynam RC is definitely a brand worth considering if you're looking to buy a radio-controlled airplane. With its solid reputation and commitment to quality, you can be sure you're getting a product that will provide you with hours of fun and entertainment. I recommend checking out Dynam RC if you want a new RC plane.
One thing that sets Dynam RC apart from other brands is its commitment to innovation and technology. We are constantly updating our products to incorporate the latest advancements in RC technology. It means you can trust that you're getting a reliable and cutting-edge product.
In addition to its innovative products, Dynam RC is also known for its excellent customer service. They have a team of knowledgeable and helpful representatives who are always ready to assist with any questions or concerns. This level of customer support is invaluable and can make all the difference in enjoying your RC experience.
Overall, Dynam RC is worth considering if you're in the market for a high-quality RC brand that offers innovative products and excellent customer service. With their commitment to quality and technology, you can trust that you're getting a product that will last and provide you with hours of fun and excitement.
Where to Buy Dynam RC Planes?
Are you looking for a reliable place to buy Dynam RC planes? Look no further!
First on the list is the official store - Dynamrc.com. We have a wide range of Dynam RC planes to choose from, including trainers, warbirds, sport models, and including some hard-to-find models. We also have a great selection of replacement parts and accessories at competitive prices. We have a helpful team of experts who can assist you with any questions or concerns.
Last but not least, remember Amazon or eBay. We have a vast selection of Dynam planes and accessories, including exclusive deals and discounts. We also offer fast shipping and excellent customer service.
No matter which option you choose, do your research and read reviews before making a purchase. With these top places to buy Dynam RC planes, you can find the perfect model for your needs and budget.
Dynam RC Distributors
Our products export to more than 60 countries and regions and bring excellent enjoyment to users worldwide. There are many Dynam RC distributors around the world. You will find a reliable and trustworthy source to purchase from.
Dealers list for Dynam RC, DetrumTech, TomCat:

Hobbytech Toys
Sik Hobbies Rockingham
Supercheap Hobbies
Techno Hobbies
Kostka Model Centrum
Flash RC
Natterer Modellbau
RC Castle
RC Bazaar
KNV Hobby
Piccole Ali
MBP JAPAN
Radicon1
Hobbyzone
Hobby Hangar
Hobby Station
Lobby Hobby
TopGun RC Hobbies
Rotor Hobby
Aerial Concepts
RC Innovations
Turbo Hobby
Hebu Handels GmbH
飛恩模型
Bondaero
Dynam Direct UK
Flying Tech
Rchobby-Avenues
General Hobby
Grayson Hobby
Mile High RC
Skyward Hobbies
Warbird Models

Conclusion:
In this article, I have focused on the top RC model manufacturer - Dynam RC.

Please let me know if you have any questions or tips about looking for Dynam RC models.

The following articles in this series will guide you in beginners' tips and recommendations. Look for them here, "What rc plane is best for beginners?"