The Dynam Mini Spitfire V2 DY8930 build include the steps below:
Dynam Mini Spitfire Specification
Wingspan: 900mm/35.43"
Overall Length: 762mm/30"
Flying Weight: 980g/34.56oz
Wing Loading: 31.6g/dm²
Motor: 1080KV brushless outrunner
ESC: Skylord-20A ESC
Prop: 3-blade prop 8*6*3
Servo: 4x 9g micro servos
Tx: Gavin 6C 2.4Ghz
Rx: 6CH 2.4Ghz
Battery: 11.1V 1250mAh Li-Po 15C
Aileron: Yes
Elevator: Yes
Rudder: Yes
Flaps: No
Material: EPO Foam
Mini Spitfire Spare Part List
SPF-001 Fuselage

SPF-002 Wing Set

SPF-003 Vertical Stabilizer

SPF-004 Elevator

SPF-005 Landing Gear Set

SPF-006 Spinner

DYP-1015 8*6*3 Prop

SPF-008 Canopy

BM2810CD-KV1080 Motor

SPF-010 Push Rod

SPF-011 Plastic Set

SPF-012 Decal

SPF-013 Plastic Tab

SPF-014 Motor Mount

SPF-015 Cockpit

SPF-016 Screw Set PA2.3*20

DY-6001 11.1V 1250mAh 15C

DY-1006 9g Servo

DY-3003 Epoxy Glue

Skylord-20A

 

DYR-2001 2.4G Receiver

DTM-T006 Gavin 6C Transmitter

DY-3001 Quick-controller

DYAT-008 Servo Horn
Mini Spitfire Assembly
| | |
| --- | --- |
| 1. Apply the foam glue on the nose landing gear and glue it in position. | 2. Apply the foam glue on the scale plastic parts and glue them in position. |
| 3. Connect the aileron servos with Y wires. | 4. Locate the wing in place. |
| 5. Fix the wing on the fuselage w/ a PA2.3*20mm screw. | 6. Install the scale antenna set using glue. |
| 7. Insert the horizontal & vertical stabilizer in place. | 8. Fix the stabilizers with a PA2.3*20mm screw. |
| 9. Install the tail wheel with PA2.3*20 screws. | 10. Insert the pushrod into the elevator quick-controller&tighten the screw |
| 11. Repeat the steps for the rudder. | 12. Install the propeller. |
| 13. Install spinner with PA2.3*20 screws. | 14. Put the battery in position. |
Mini Spitfire Decal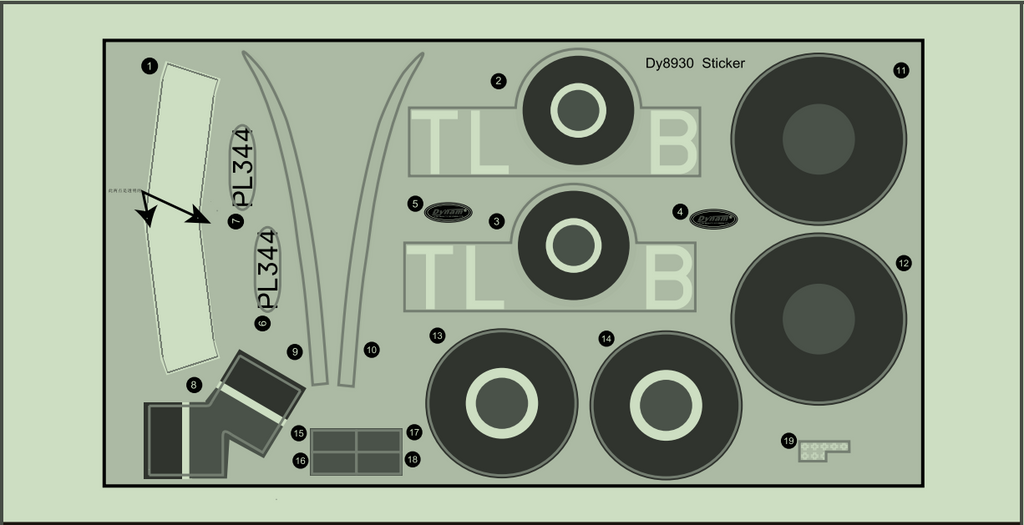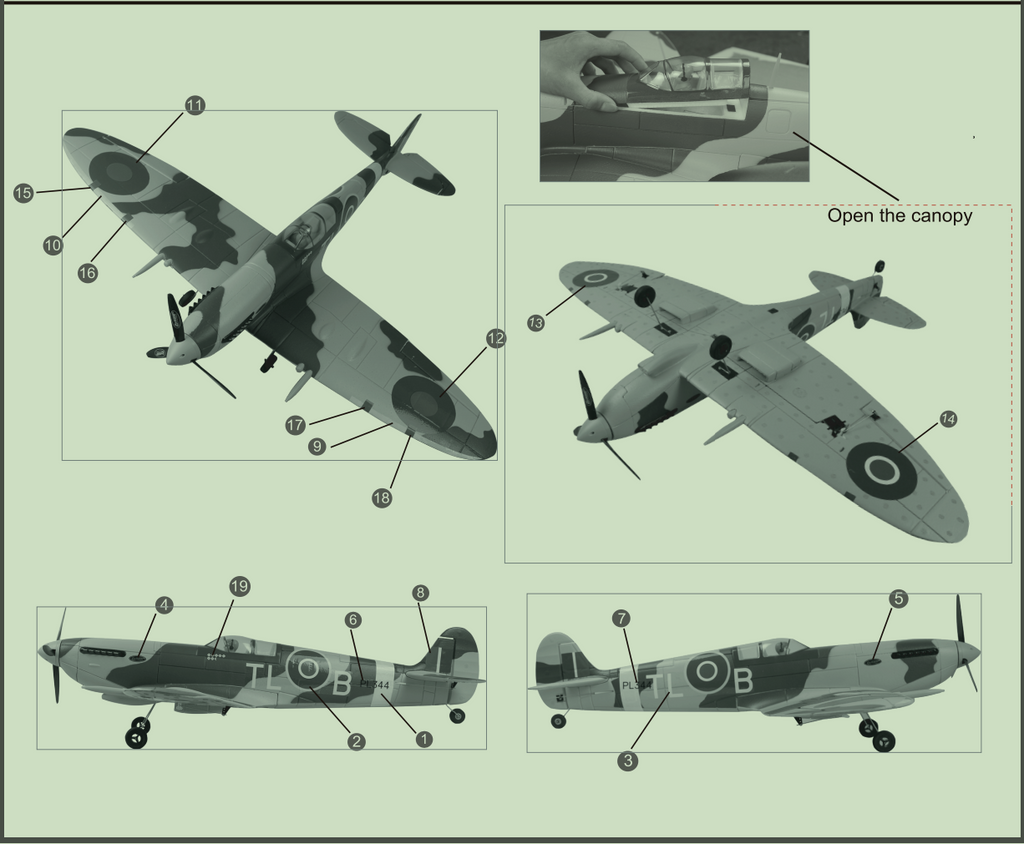 Directions for Mini Spitfire Assembly & Adjustment
CENTER OF GRAVITY(C.G.)
The ideal C.G. position is 50~55mm behind the leading edge, measured where the wing meets the fuselage. Add weight to the fuselage or move the battery position to obtain the C.G. specified. Check the C.G. before flying.