Description
Detrum iStoneAcro 6-AXIS Gyro & Stabilizer for Airplanes - DTM-G001

Detrum iStone-Acro is a 6-axis Gyro & Stabilizer for RC airplanes, suitable for normal wing, delta-wing, and V-tail airplanes. It connects with the receiver to control the flight, supports Gyro Off, Normal, and Aerobatic modes, and is compatible with S.BUS and PWM receivers. You can set the programmable items via the SET button and LEDs.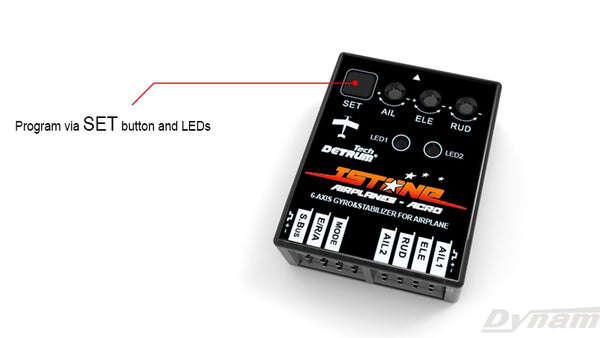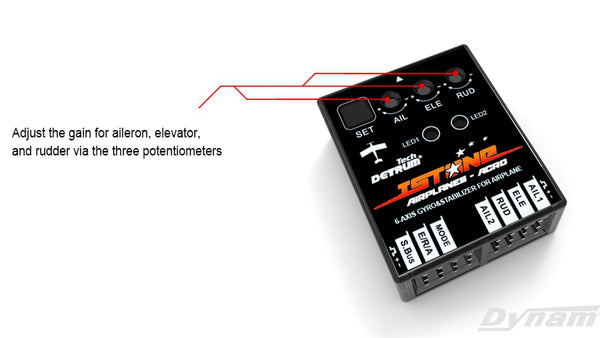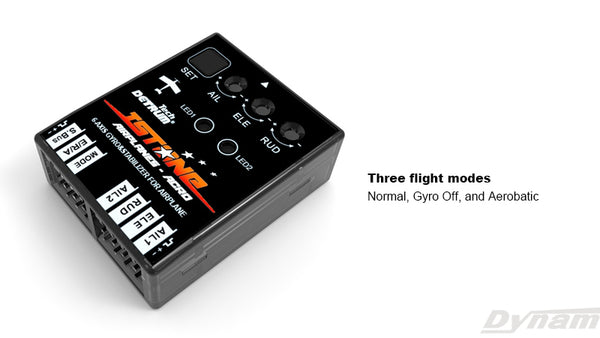 Features
32-bit high-performance ARM MCU, 6-axis sensor chipset.
Original attitude stabilization algorithm and control algorithm.
Support normal wing, fly wing, and V-tail airplanes.
Support mode switch via MODE channel can switch between different modes.
Three flight modes: Gyro Off Mode, Normal Mode, and Aerobatic Mode.
Program via SET button and LEDs, adjust the gain for aileron, elevator, and rudder via three potentiometers.
Support S.BUS and PWM receivers.
Mini dimension, supporting different mounting directions (face up, down, left, and right).
Specifications
Main Controller: 32-bit MCU
Sensor: 6-axis Gyro
Gyro Scale Range: -2000dps ~ +2000dps
Accelerometer Scale Range: -4g ~ +4g
Input Signal: PWM, S.BUS
Output Signal: PWM (71.4Hz)
Input Voltage: 4.8V ~ 7.4V
Operating Temp: -20℃ ~ 70℃
Size: 36.5mm*29.4mm*12.4mm
Weight: 11g


Packing List:

iStone-Acro Gyro & Stabilizer x1
3-signal wire x1
Anti-shock double-sided tape x2
Single-signal wire x1
The iStone series stabilizer FC can assist the aircraft to fly more safely through RC technology, flight control algorithms, and rapid data analysis and processing.

Auto-Recovery Mode (also called Auto Balance Mode)

Choose this mode to lock the tilt angle on the pitch and roll axis. When operating, the airplane will maintain level flight automatically. It will also sense the angular velocity on the yaw axis and react momentarily. When switching it to this mode from any other mode in an emergency, the airplane will recover automatically to the level flight, known as a one-click rescue. It is suitable for new beginners or FPV applications.

Normal Mode

The gyro will sense angular velocity on each axis and react momentarily. The normal mode is suitable for all types of airplanes. It can effectively improve the stability of your airplane, especially on a windy day.

Aerobatic Mode

Adding the altitude hold function to the gyros will lock the airplane to its previous attitude if there is no command sent from the transmitter in a flight. This mode can effectively help you to accomplish an aerobatic flight.

Gyro Off Mode

Choose this mode to turn off the gyros for all channels.
Payment & Security
Payment methods
Your payment information is processed securely. We do not store credit card details nor have access to your credit card information.
---
Security