TomCat Skylord ESCs
are one of the market's most popular electronic speed controllers (ESCs). They are known for their high quality, reliability, and ease of use. In this article, we will discuss the features and benefits of TomCat Skylord ESCs and why they are a great choice for any RC enthusiast.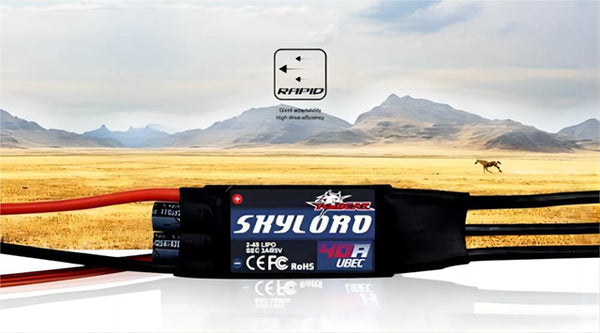 One of the key features of TomCat Skylord ESCs is their advanced programming options. They come with a user-friendly interface, allowing you to customize the settings to your needs. It means you can adjust the throttle response, brake force, and other parameters to get the best performance from your RC aircraft.
Another great feature of TomCat Skylord ESCs is their compatibility with various motors and batteries. They can handle up to 6S LiPo batteries and are compatible with brushed and brushless motors. Designed with an excellent motor control algorithm and fast responding speed. The TomCat Skylord ESCs can be used to drive various aircraft motors with good adaptability and high efficiency, applied in airplanes, helicopters, multi-rotors, and other platforms. It makes them a versatile choice for any RC vehicle, whether a car, truck, or boat.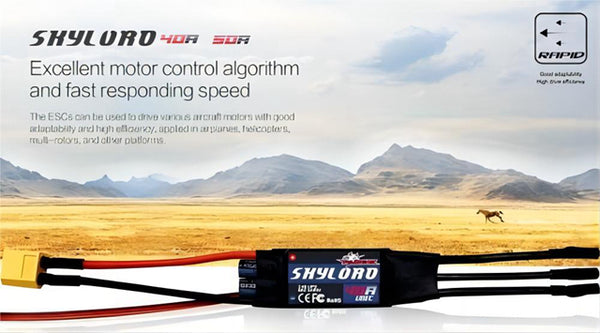 TomCat Skylord ESCs also come with many safety features that ensure your RC vehicle stays safe and secure. They have a low-voltage cut-off protection system that prevents the battery from being over-discharged, which can damage the battery and ESC. They also have thermal protection that prevents the ESC from overheating, which can cause permanent damage.
One of the biggest advantages of using TomCat Skylord ESCs is their high efficiency. It means they can deliver more power to your motor, which translates into faster acceleration and higher top speeds. They also have a smooth throttle response that makes them easy to control and maneuver.
All components in the
TomCat ESCs
(Electronic Speed Controllers) are genuine superior materials, and a strict quality control system is implemented during manufacturing. The ESCs are fully functional and cost-effective products.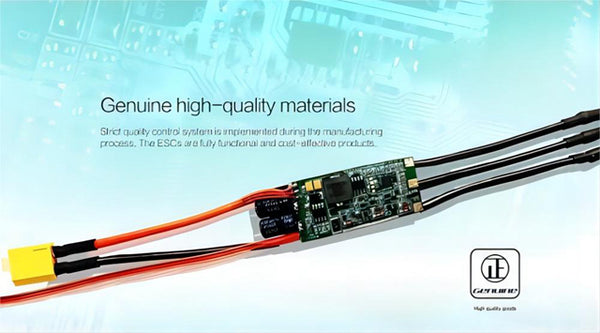 The Skylord ESCs have strong drive capability and have passed the running test (working at rated Current for a long time). By using high-quality power devices and adopting a derating design, the ESCs can withstand the shocks when the load current is far more than the rated Current, caused by frequently starting and stopping the motor or changing the throttle rapidly.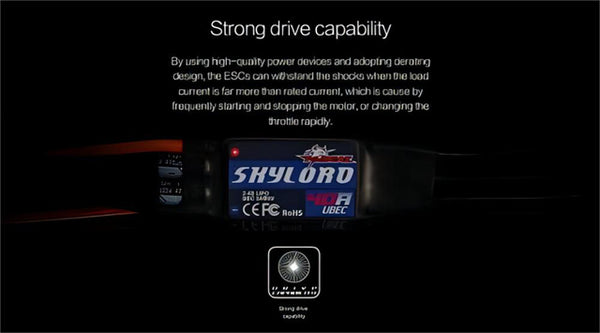 The TomCat ESCs can be powered by 2-6S Li-Po or 5-18S Ni-MH batteries with a supply voltage detection function. When the supply voltage is out of the normal range, an alarm tone will be emitted from the motor and the motor will not start.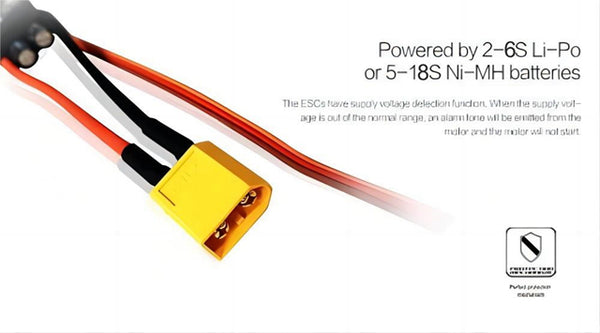 Skylord ESCs can adapt to different transmitters' throttle travels by using throttle calibration function, are compatible with RC products of domestic and foreign (such as Futaba and Spektrum) manufacturers, and support a PPM protocol signal ranging from 0Hz to 500Hz.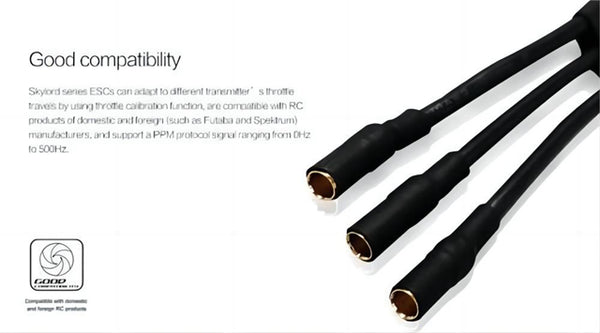 A built-in UBEC (Ultra BEC) exists for
40A
and
50A Skylord ESCs
. This battery elimination circuit (BEC), which uses a linear regulator to output the power supply, has high power efficiency, strong drive capability (can drive five servos), stable output voltage, and small fluctuations.
Several programmable items can be set with a transmitter or a programming card.
Rich and Perfect ProtectionsPower-on security
If the throttle stick is not at the bottom, the motor will emit an alarm tone and not start to avoid personal injury after turning on the power. Low voltage protection: If the battery voltage exceeds the cut-off threshold, the Skylord ESC will reduce the output power.
Over-heat protection
With a built-in temperature detection circuit, the TomCat ESC will automatically reduce the output power when the temperature gets too high.
Throttle signal loss protection
The TomCat Skylord ESC will gradually reduce the output power if the throttle signal is lost for 1 second, further loss for 2 seconds will cut off the output.
A new evaluation of TomCat Skylord ESCs
Along with the development of model aircraft, more and more ESCs have come into the market. How to choose the right ESC for the aircraft has become a problem.
TomCat Skylord ESCs are applicable for airplanes and primary helicopters and have 11 modes ranging from 6A to 100A in continuous Current, which could meet nearly all airplanes' needs. ESC is an important step in the process as you need to ensure your ESC can handle all power passing through it. Here is the evaluation of TomCat Skylord ESCs and something important when the user chooses the ESC.
Appearance
Skylord ESCs are small with simple packing, which is convenient for ship and carrying. Every ESC has a different continuous Current as well as the corresponding size.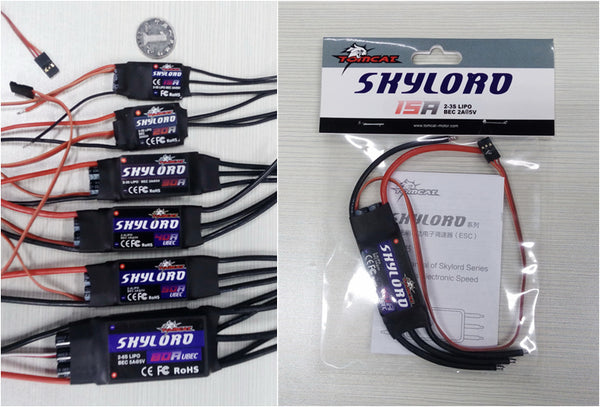 In addition, a user manual in Chinese and English is included.
Product Features
With great drive capability, the highest motor speed can reach 210000 RPM (2 poles), 70000 RPM (6 poles), and 35000 RPM (12 poles).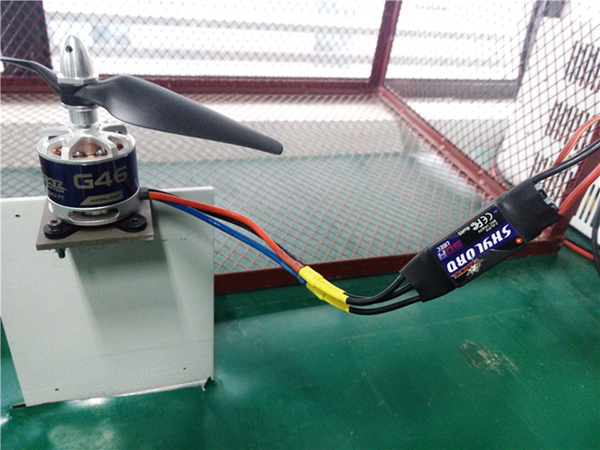 This picture depicts an evaluation of Skylord 50A ESC with
Tomcat G46
; for more about this evaluation in the video, please click here: https://www.youtube.com/watch?v=tlWqNPxTMn8
Support three start modes: Normal, Soft, and Super-soft. It takes 300 milliseconds, 1.5 seconds, and 3 seconds from initial throttle advance to full throttle in corresponding. Normal mode is suitable for fixed-wing aircraft. Soft and very soft modes are suitable for helicopters.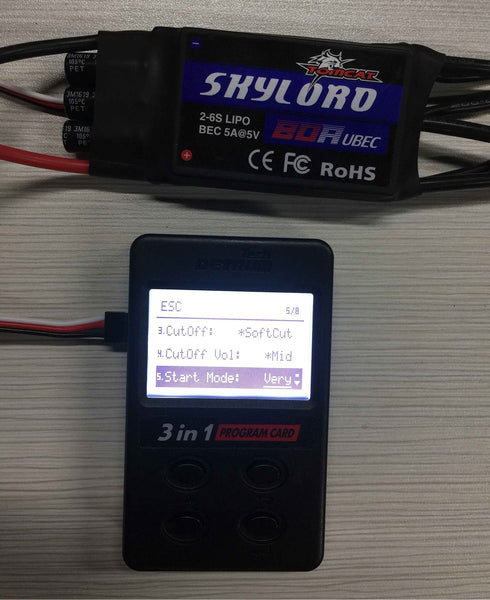 The ESCs have full protection features such as low voltage protection, over-heat protection, overload protection, and throttle signal loss protection, which can effectively extend the service life of the ESCs.
Support multiple programmable items which could meet more users' needs.
| | | | |
| --- | --- | --- | --- |
| Programmable Item/Option | Option 1 | Option 2 | Option 3 |
| Brake | OFF | ON | |
| Battery Type | Li-Po | Ni-MH | |
| Cut Off Type | Soft-Cut |  Cut-Off | |
| Cut Off Voltage | Low | Middle | High |
| Start Mode | Normal | Soft | Very Soft |
| Timing Mode | Low | Middle | High |

Additionally, a Detrum 3-in-1 programming card with a very small size and intuitive interface can be purchased for easily programming the ESC. It brings much more convenience for users than the transmitter.


Specifications

Here is the table below about ESCs' specifications. Users can choose the appropriate ESC depending on the situation.
| | | | | | | | | | | | | |
| --- | --- | --- | --- | --- | --- | --- | --- | --- | --- | --- | --- | --- |
| ESC | Cont.Current | Burst Current (10s) | BEC Mode | BEC Output | 2S Li-Po | 3s Li-Po | 4s Li-Po | 5s Li-Po | Lipo | Ni-MH | Weight | Size (L*W*H mm) |
| Skylord-6A | 6A | 8A | Linear | 5V/1A | 3 servos | / | / | / | 2 | 5-6 | 5.5g | 32*12*4.5 |
| Skylord-12A | 12A | 15A | Linear | 5V/2A | 5 servos | 4 servos | / | / | 2-3 | 5-9 | 10g | 38*18*7 |
| Skylord-15A | 15A | 20A | Linear | 5V/2A | 5 servos | 4 servos | / | / | 2-3 | 5-9 | 17g | 48*23*6 |
| Skylord-20A | 20A | 25A | Linear | 5V/2A | 5 servos | 4 servos | / | / | 2-3 | 5-9 | 20g | 42*25*8 |
| Skylord-30A | 30A | 40A | Linear | 5V/2A | 5 servos | 4 servos | / | / | 2-3 | 5-9 | 38g | 65*25*12 |
| Skylord-40A-UBEC | 40A | 55A | Switch | 5V/3A | 5 servos | 5 servos | 5 servos | / | 2-4 | 5-12 | 42g | 65*25*12 |
| Skylord-50A-UBEC-3A | 50A | 65A | Switch | 5V/3A | 5 servos | 5 servos | 5 servos | / | 2-4 | 5-12 | 42g | 65*25*12 |
| Skylord-50A-UBEC-5A | 50A | 65A | Switch | 5V/5A | 8 servos | 8 servos | 6 servos | / | 2-4 | 5-12 | 42g | 65*25*12 |
| Skylord-60A-UBEC | 60A | 80A | Switch | 5V/5A | 8 servos | 8 servos | 6 servos | 6 servos | 2-6 | 5-18 | 62g | 77*35*14 |
| Skylord-80A-UBEC | 80A | 100A | Switch | 5V/5A | 8 servos | 8 servos | 6 servos | 6 servos | 2-6 | 5-18 | 80g | 86*38*12 |
| Skylord-100A-UBEC | 100A | 120A | Switch | 5V/10A | 12 servos | 12 servos | 10 servos | 10 servos | 2-6 | 5-18 | 74g |  70*30*20 |

6A to 30A Skylord ESCs are all Linear BEC that reduce the voltage from the main Lipo to 5V by converting the excess voltage into heat. The advantage of this kind of ESC is its small size and low interference. However, as input voltage increases or the current draw gets larger, more power will be wasted and converted into heat. This type of voltage regulator is unsuitable for high input/output voltage difference or high current application. It's generally only used on 3S or below.

As for 40A~100A, use the switching UBEC when the current application is much higher. The Switching UBEC is more power efficient, and the BEC tends to overheat with large input/output voltage difference, but switching UBEC doesn't have this problem and is thus more reliable. In addition, switching UBEC generally can provide more current safety.

Important Items

Continuous Current: indicates the maximum constant Current allowed to pass through to the motor safely. If you draw more current than it can handle, your ESC will overheat, eventually burn out, or even go up in flames. For example, the TomCat motor named TC-P-3510-KV1080, whose max burst current is 30A, needs the ESC's continuous Current over 30A, so the user should choose the ESC named skylord-40A-UBEC. In addition, there will be no power gain to your motor when using ESC with too many amps. Using 40A ESC doesn't mean your airplane is flying faster than 20A ESC. Instead, your airplane will be heavier.

Burst Current: might allow a higher current to pass through for a short time, such as 10 seconds. Over this time, the ESC will bust out.

TomCat Skylord Advanced 120A ESC

DetrumTech introduces a new product with high quality named TomCat Skylord Advanced 120A ESC through long-time experience accumulation and technology development to enrich the diversity of high-end products in the ESC market. With perfect performance, this ESC is applicable for 500~550 Class Helicopters (Propeller: 470-575mm), large aircraft, and ducted airplanes. Now, here is the introduction to Skylord Advanced 120A in detail.

Unpacking

Skylord Advanced 120A ESC still uses the simple black packing box, including foam filler, to avoid any damage in transit.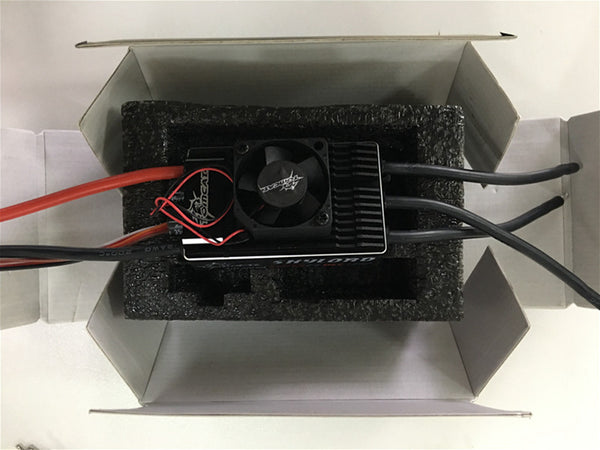 Systematic Design in Heat Dissipation

The top of the ESC has a special casing with a slot for conducting heat, which could enlarge the radiating area. Two fixing holes for the fan, users could install the fan or not according to their own needs.


An internal silicone pad for conducting heat clings to the MOS power elements, which could dissipate the heat to the maximum.

As for the bottom of the ESC casing, multiple ventilation holes are designed for better usage.


Active Freewheeling Technology

Active Freewheeling technology improves the throttle response driving efficiency and reduces the ESC temperature, making the flight more steady and nimble.

Independent High Voltage BEC

New switch-mode independent BEC with adjustable output voltage ranges from 5V to 8V and continuous/peak current of 10A/25A, which can drive the motors to achieve the perfect flight.

Independent BEC module design will keep the normal output and reduce the risks of crash when the MOSFET board of the ESC is burnt.

Multiple functions and settings, safer and more reliable

Users could assign the Start-up time of the ESC in StoGov and ElfGov modes to make the motor start extremely smooth and effectively avoid tail-drift issues.

Also, in this mode, users could program the "AR Time" and "Restart Accel" to break the autorotation and restart up, lowering the possibility of a crash resulting from incorrect operation.

Multiple protections, like start-up protection, ESC thermal protection, capacitor thermal protection, over-current protection, overload protection, and throttle signal loss protection, could extend the service life for ESC and free the flight from worries.

Multiple Programmable Items, Adjustable Sensitivity of Speed Governing
Make the flight as you wish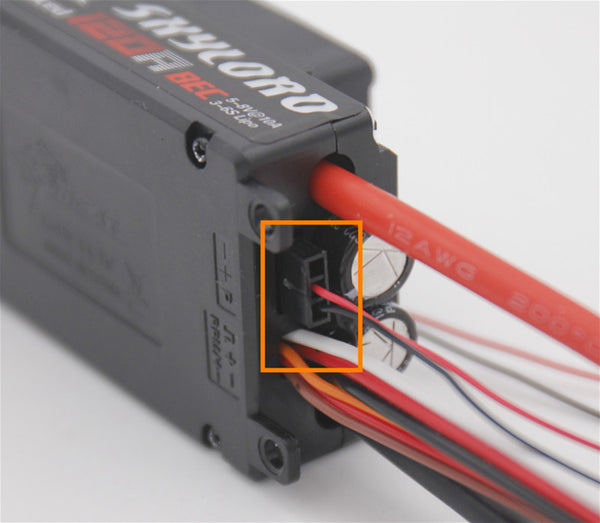 Separate programming port for ESC programming or parameter setting, users could check the Minimum Voltage, Max Temperature, and Max Current, then program the ESC.

As for the motor speed governing, users can adjust the governor parameters to achieve precise control and perfect flight to one's own needs.

Finally, put a parameter table about Skylord Advanced 120A ESC specification to help users choose the suitable one.

Model: Skylord Advanced 120A
Application: 500-550 Class Helicopters (Propeller: 470-575mm)
Input Voltage: 2S~6S LiPo
Cont.: 120A
Peak Current(10s): 150A
BEC Output: Switch-mode, 5~8V Adjustable(Step:0.1V),10A/25A Cont./peak
Throttle Signal/BEC: Throttle Signal Wire - White
Output/RPM Signal Transmission Wires: BEC Output Wires - Red & Blackˎ Red & Brown / RPM Signal Transmission Wire - Yellow
Separate Programming Port: For connecting 3-in-1 program card
Weight: 106.5g
Size: 84.29x38.2x20.4mm

If you're looking for an ESC that offers high performance, reliability, and safety, then TomCat Skylord ESCs are worth considering. They are a great choice for both beginners and experienced RC enthusiasts alike. So why not try and see for yourself what makes them so popular?